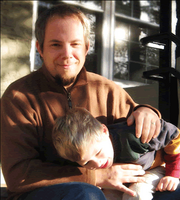 George "Geo" Norman Lippert (born January 11, 1970), is an American author and computer-animator best known for writing the James Potter series of books, an uncanonical sequel-series to J. K. Rowling's Harry Potter that follows the adventures of Harry's son, James.
Lippert's debut novel, James Potter and the Hall of Elders' Crossing, was released online in 2007 to critical and commercial acclaim. Mistaken as being written by Rowling herself, it became the subject of much controversy. After the disputes had ceased (with Rowling's endorsement), Lippert went on to write four sequels about James Potter (released through 2017). Now an international success, Lippert has gone on to write and publish his own original works, including The Riverhouse (2010) and The Freezing Season (2015).
He currently lives in Erie, Pennsylvania with his wife and two children.
Bibliography
The James Potter series:
Other Books in the James Potter universe:
Other Works
Trivia
- Lippert's son, Zane, was actually the inspiration for Zane Walker in the James Potter series.
- In James Potter and the Vault of Destinies, there is an inside reference to Lippert and his family.
References
for more information about g.norman lippert and his books, go to www.gnormanlippert.com.
Community content is available under
CC-BY-SA
unless otherwise noted.